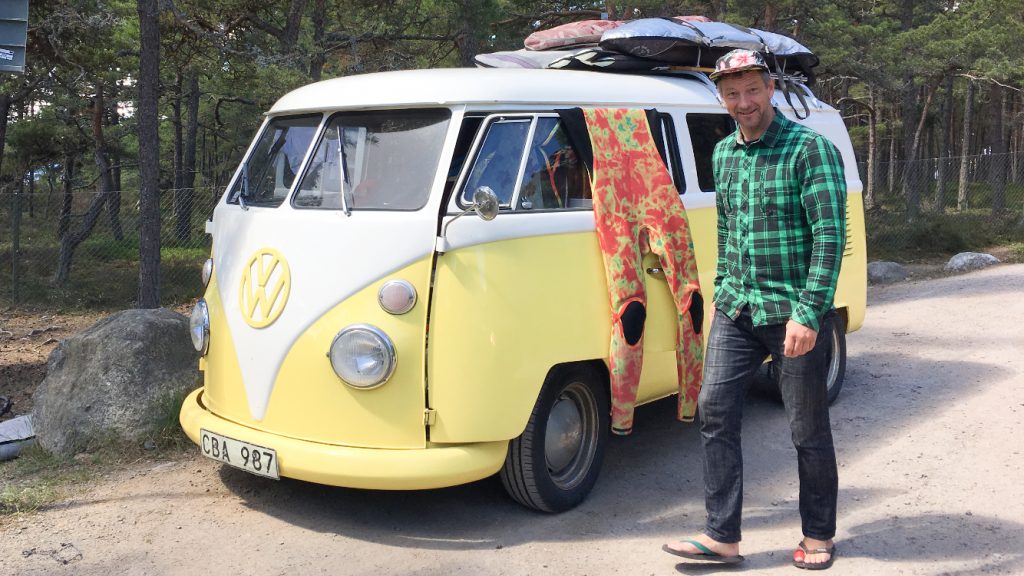 Eight08 Surfboards is my personal mental peace project. It connects my interest in building material artefacts with my bare hands, with my love for the ocean. It also connects my spiritual life with my physical. My inner life is always very active with everything from deep existential thought to fun and crazy idéas. My body loves to move, dancing… on the waves, in the snow, or somewhere totally else.
A brief account of how it all came about
I learned (wrong I did my first attempt) to shape surfboards in the early 1980:s. As a young very competitive regatta dingy sailor in the Swedish national sailing team, I came into contact with the then very experimental and fast growing wave-sailing windsurf scene. It just sucked me in, and the olympics suddenly didn't feel that attractive anymore. Windsurf boards for waves were something very new back then, and everybody experimented with different shapes and constructions. Some of the worlds most famous surfboard shapers totally went for it, totally newbies created some very interesting crafts. During a year or so I built and sold about 50 windsurf so called "funboards" or "sinkers", without having much knowledge of what I actually were doing. But it was a lot of fun.
I ended up, as so many other of us, on the north-shore of Maui, Hawaii. There, the combination of powerful waves and strong side shore tradewinds were the perfect proving grounds for both try-hard wave sailors and windsurfboard shapers. I kind of learned how to shape and glass the proper way there. Then my life took me to a lot of things not related to building surfboards. I made one or two for myself or a friend, but never more than a couple per year.
Fast forward, back in Stockholm. House, wife, kids, some kind of career, but also new opportunities. I had a small side-business importing high-end windsurf stuff from Maui (which i continued to visit on a regular basis). Then surfing really took off, all over the world, not at least in Sweden. I suddenly find myself commute to my local surf spot Torö so much more often than before. My oldest kids are becoming adults. Hm, I start to feel the itch to take up my surfboard building again and this time a little bit more serious. I build my shaping shack (a shed) on my yard. I converted my garage to a glassing facility. I came up with the Eight08 name, and, as we use to say – the rest is history!
There is a description of the earlier part of my Eight08-project (in Swedish) on:
https://surfsverige.se/index.php/forum/2-surfforum/95184-eight-08-smagalet-projekt